<!body text="#000000" bgcolor="#FFFFFF" link="#000000" vlink="#000000" alink="#000000">


BRITISH 2yo RACING



---

Johnston Breeze Project

---

---

Article 15_006_2
1st April, 2015 & 12th March, 2016

---
---
1. INTRODUCTION


1.1 Background & Document Links

&nbsp&nbspThis Article will be updated through the season to track the purchases made by Mark Johnston at the 2yo 'Breeze Up' sales and how they perform as 2yos. Mr Johnston wrote a long piece in the March edition of his stables 'Kingsley Klarion' magazine explaining how he would be working with James Willoughby to identify horses to buy at these sales. Mr Johnston would be funding this research having been convinced that the Willoughby approach offered an edge in buying horses at these sales.

&nbsp&nbspWilloughby is a Maths graduate who, among other things, writes a Blog entitled "The Figures Never Lie". He previously worked for Timeform and spent many years producing the Time based rating figures for the 'Racing Post'. As you would expect the core of his approach to analysing 2yos at 'Breeze Sales' rests on timing the Breezes the horses do on the track prior to the sale. In the same edition of the 'Klarion' Willoughby wrote a companion article to Johnston's and laid out some of the background to his belief in 'Breeze Sales' being 'breakable' by numerical analysis. He did not answer when prompted on Twitter to at least hint at the other 'proprietry variables' which enter into the calculations. The following quote is a key part of the Willoughby article :-

"..But, without giving away our proprietary edge, what we found was how to best predict
subsequent racecourse performance by viewing the breeze time in the context of all the other variables about the horse.".

&nbsp&nbspB2yoR reviewed and made notes on a large number of 2014 Breeze Videos during that season. In early 2015 these notes were reviewed in the context of the actual performances of the 2yos on the race track (if they made it to the races). A small number of Visual factors were rated numerically as part of this retrospective analysis along with refining the phrases used to describe other Visual factors to have consistent meanings. This work will carry on developing through 2015. A major point to note is that this approach is primarily Visual and no timing of Breezes is done. A B2yoR article produced in early 2015 - Visuals AND Numbers - considers the wider issue of using Visual versus Numerical input to analyse races and horse's performance.

&nbsp&nbspGiven the divergent methods being used B2yoR will be following the 'Johnston Breeze Project' in 2015 to see how the horses purchased performed. This article is the place to records the progress and results of the Project.

---
1.2 What is 'Success'?

Also a sub-Section which needs ongoing review to define what constitutes 'Success' for the Project. A few thoughts to start the process :-
Johnston already has an 'above average' record at Sales of different types according to the data that Willoughby presents in his article. There are a number of issues that could be raised about the methods used to produce that data but let us assume it is usable as a Baseline Figure. If the results of the Breeze Project are similar to Johnston's usual Sales Outcomes then has the Willoughby Process added any value? How can you separate out the value of the input data from different sources?.
The issue in the first point becomes a touch worrying when you look at the quote from Johnston after his first Breeze purchase of the year. He used the phrase that the 2yo had "ticked all the boxes". We do not know what all the other 'boxes' are but one should be Johnston's Pedigree Research and another his assessment of the 2yo as a physical specimen. Ideally, we would be able to compare the results from purchases that had all boxes ticked and those that had all boxes ticked except recording a fast Breeze Time. We are not going to get that split so are left with using the general sales outcomes for Johnston as a comparison. Which is suspect given the different types of sales involved.
What sample size do we need to judge 'Success'? For those with long memories, would a 'Schweppes' type purchasing outcome with 2yos in their first year be a large enough sample?
---
1.3 Project Scope Update?

On Monday 27th April the 2yo First Selection became the first Graduate of a Breeze Sale to run in 2015. He had been Lot 1 at the first Breeze Sale of the year at Brightwells Ascot sale and was sold for £42,000 and the third most expensive Lot at the sale. New trainer Simon Crisford signed the Sales Docket for him. When he ran he was owned by Abdulla Al Mansoori (Yellow colours with Dark Blue Sleeves). After First Selection won, what amounted to a moderate 2 horse event, on debut the following Tweet followed which had echoes of the Insider Back-Slapping, without appropriate context, touched upon in the Introduction to the Visuals AND Numbers article.

The first point to note is that James Willoughby highlights one important factor which is included in his approch which is to watch the 'gallop-Out'. By which he presumably he means how strongly a horse finishes the breeze and further how it moves after the timing ends, and how long in takes to pull up. Most Breeze Videos cut out abruptly very soon after the 2yo has finished the 2f part of the Breeze. B2yoR has been collecting inforrmation about how strongly they are going up to this point.

A couple of questioning Tweet replies to James Knight asked what the excitement was about for this single win. Is the 'Figures Never Lie' approach celebrating vindication with a Sample Size of One, for example. A clarification Tweet came from Jason Hathorn (Willoughby's partner in the Breeze Project and a programmer in the Statistical functions package name 'R') :-

It suggests that Mark Johnston and Simon Crisford are both taking the same Breeze Analysis service from Willoughby & Hathorn and First Selection was selected by their analysis at some level. When interviewed after the Southwell win Crisford was very clear that the owner, Mr Mansoori, had chosen the horse and made no mention of Timings, etc. The other point to note is to check whether the two Breeze 2yos bought at Brightwells by Johnston also run in the Mansoori colours.

---

2. BRIGHTWELLS (Ascot)

&nbsp&nbsp&nbsp 31st March (Breezes) & 1st April (Sale) = Catalogue/Results/Videos

Mark Johnston's purchases at the sale :-


Lot 8 = £52,000.
AHDAF (Pastoral Pursuits ex Bayja).
Lot 12 = £26,000.
MUHADATHAT (Showcasing ex Cavallo Da Corsa).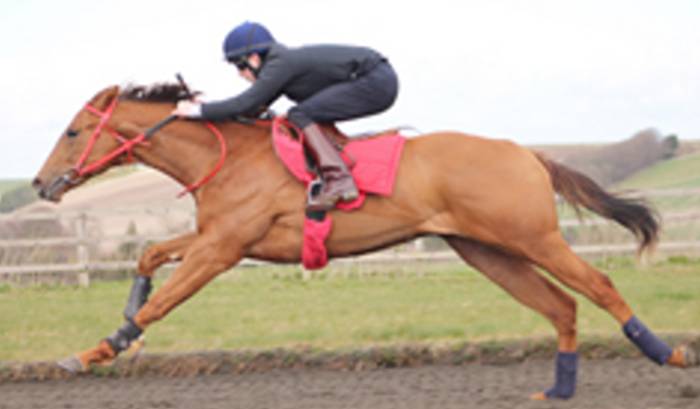 Lot 8 - AHDAF
Work Picture before the Sale.
Racing Post report = "Mark Johnston has been working closely with Racing UK analyst James Willoughby, who has been looking at the statistics behind breeze-up sales, and the pair were suitably impressed by a Hillwood Stud-consigned son of Pastoral Pursuits, with the hammer coming down in their favour at £52,000. "He's a nice horse," said Johnston. "I've been working with James looking at timing analysis and, on James's advice, this horse ticked all the right boxes. "I haven't got an owner for him at the moment." The strong-looking chestnut, who was bought as a yearling at DBS for £20,000, also boasted one of the day's strongest pedigrees, being a three-parts brother to New Providence, who landed the Group 3 Dick Poole Fillies' Stakes at Salisbury last year for Hugo Palmer."
Racing Post piece on the £90,000 Top Lot (#4 Siyouni ex Alfaguara) = ""He's been bought for a client of mine and will race in Britain," said Coleman. "He came highly recommended by Katie Walsh, who was very sweet on him. "He did the fastest breeze and is by a sire who did exceptionally well with his first crop of two-year-olds. He looks a strong, precocious type and we'd like to think he could be back here in June for Royal Ascot - that's the plan. "He also has the French premiums, which gives us a different angle and we could be tempted to run him over there at some stage."" [Update :- Named DISCREET HERO. Owned by 'A. Quinn' and trained by Alan McCabe until 3TO then switched to be trained by Simon Crisford. Won a 5f polytrack nursery on his 5th outing off OR66. ]

---
3. DONCASTER
&nbsp&nbsp&nbsp 22nd (Breezes) & 23rd (Sale) of April. Catalogue

Mark Johnston's name did not appear in the list of Buyers for any lot and no advertisements on his website after the sale offerring recent Breeze purchases for sale. Reports via Twitter that James Willoughby and his Breeze Timing equipment were present at the sale.

---
For general interest the Videos below are of the Top Lot at the Sale (Left) and a good example of a How Not to Do It. All the preparation for that? :-


Lot 157 = £185,000.
Unnamed (Footstepsinthesand ex Notting Hill)
Did Not Run as a 2yo.
Lot 37 = £7,500 & Cancelled. (Zebedee ex Vigorous).
Did Not Run as a 2yo.
Lot 46 = Withdrawn (Tagula ex Adultress)
Did Not Run as a 2yo.
---
4. TATTERSALLS CRAVEN
&nbsp&nbsp&nbsp 14th-16th of April. Catalogue
Mark Johnston's name did not appear in the list of Buyers for any lot and no advertisements on his website after the sale offerring recent Breeze purchases for sale. Mr Johnston nearly always purchases lots under his own name, as he did at Brightwells Breeze Sale, and not through agents.
For general interest the Videos below are of the Top Lot at the Sale (Left) and one example of a 2yo who would have recorded a Slow Breeze Time (Right). The 2yo having more physical potential than Slow Time recorded would suggest but clearly an attitude problem that needs fixing. :-


Video Link
Video Link
Lot 113 = 850,000gns.
Unnamed - Did Not run as a 2yo.
bought by Coolmore.
(War Front ex Rehear)
Lot 48 = 40,000gns.
KASSEOPIA
(Showcasing ex Dream Again)
---
5. TATTERSALLS GUINEAS
&nbsp&nbsp&nbsp 30th April (Breezes) & May 1st (Sale). Catalogue
&nbsp&nbsp&nbsp Mark Johnston bought 3 lots at the sale as detailed in the following table.


---
6. GORESBRIDGE (Gowran)
&nbsp&nbsp&nbsp 21st (Breezes) & 22nd (Sale) of May. Catalogue
&nbsp&nbsp&nbsp No purchases by Mark Johnston at this sale.


---
7. UPDATE - POST TURF SEASON
&nbsp&nbsp&nbsp The following two sub-Sections contain tables which summarise the 2yos which ran in 2015 that were bought at a 2yo Breeze Sale.
&nbsp&nbsp&nbsp Note : in the Tables the acronym OR stands for 'Official Rating' which is the BHA allocated performance rating figure given to the horse. This is updated, if necessary, at weekly intervals by the BHA handicapper as more evidence becomes available. For guidance an 'Average' Maiden race winner would be placed around OR75 for their first win. The acronym TS stands for 'Racing Post' Time Speed Figure and is a performance rating computed from the final time for each race.
&nbsp&nbsp&nbsp The BHA OR figure has to assume every race is run to the optimum pace and method to produce an idealised, highest end, Rating level. This is because the BHA handicapper is only concerned with not letting any horse enter their handicap on a too low rating. If the rating is too high then that is, oddly, not their problem. The 800lbs Gorilla nods sagely at this point. The Time Speed figure is not constrained by this issue and tries to be a pure reflection of the actual time performance produced. For example a maiden winner given an OR75 might have run to, almost literally, any TS figure from zero upwards. To ponder this mismatch further imagine you are in a 400 metre race against Usain Bolt and the pair of you jog round the first 380 metres chatting away then sprint the last 20 metres. If you finish 10 metres behind Mr Bolt you have not proven that you are a Class of athlete capable of performing within 10 metres of Usian Bolt. But, the BHA handicapper is already walking away assuming you are.


---
7.1 Mark Johnston Summary


2yo
(Owner)
Sale
(Price)
Summary
AHDAF
(A. Mansoori)
Brightwells
(£52,000)
Won a 6f Carlisle Nursery on 4TO off OR72.
MUHADATHAT
(A. Mansoori)
Brightwells
(£26,000)
Won a 5f Musselburgh maiden and a 4 runner 5f nursery at Chester off OR89. Solid effort in the Molecomb Stakes then two poor runs in Listed races to finish season. OR95 at peak but best TS at 87 (a 'two fat horses' precocious 2yo?).
HIGHLY SPRUNG
(D. Livingston)
Tatts Guineas
(38,000gns)
Ran 8 times for a single win in a 6f Catterick maiden on 5TO. Followed that with 3 x moderate to poor runs in nurseries with the last off a highly suspect OR80. Best TS very low at 68.
CHICAGO SCHOOL
(Acorn P'ship/Walker)
Tatts Guineas
(62,000gns)
Ran 8 times for just 2 places. Finished season off OR72 when placed in a 7f WTON maiden with his best TS at a comparable 69.
FIRST PARTY
(Mezzone)
Tatts Guineas
(37,000gns)
Won a moderate 5f maiden at NOTT on debut, looking taller but wiry, then mostly ran poorly in 5 later starts. Closed the turf season with a last of 6 in a 5f nursery back at NOTT, beaten 22+ lengths. That final run off OR71 and her best TS, including the debut win, at a basement level 45. Had run 3 further times by January 11th 2016, with the latest effort over 9.5f (Johnston trying his usual up-in-trip approach) when placed off OR59.
Table 1: Mark Johnston - 2015 Turf Season 2yos bought at a Breeze Sale
&nbsp&nbsp&nbsp The following Section 8 discusses further how the results achieved might be assessed in terms of overall promise, purposely leaving aside the 'digital' Success/No Success oversimplified viewpoint. A few items are worth recording at this point, initially that we are only considering a set of 5 juveniles and a very small sample. An obvious question is whether the 5 horses purchased represented the only ones the system that Willoughby, Hathorn & Johnston used selected as worth purchasing at the sales. This seems unlikely and the more believable answer that the 5 were the ones on their sytsem's 'Shortlist' that they were able to acquire at auction. They may have been outbid for other system qualifiers or perhaps did not bid enough to meet the 2yo's Reserve Price in some instances. The main point to take would be that the 5 are a sub-set from the Shortlist of horses identified by their selection system.


---
7.2 Simon Crisford Summary


2yo
(Owner)
Sale
(Price)
Summary
FIRST SELECTION
(A. Mansoori)
Brightwells
(£42,000)
Video Link
Dual 5f winner over in maiden and a conditions event. 7f Nursery winner off OR89 in later season the won the Group 3 Solario Stakes (OR94) at SDWN. That win assisted by making all in a slow race on a track notably biased towards prominent racing. 5th of 11th in 8f Group 1 at the 'Arc' meeting, again getting an uncontested lead. OR109 after that but with his best TS down at 84. Interesting to see how much of the late season OR hike was 'real' in 2016.
(Signed for by 'Simon Crisford'.)
HAPPY CALL
(D Khalifa)
DBU
(£110,000)
Video Link
Placed in 3 of his 4 Turf Season outings in 6f maidens. Won a 6f polytrack maiden in November when at OR76. Best of TS67.
(Signed for by 'Anthony Stroud'.)
RED ARTIST
(A. Ferguson)
Tatts Guineas
(38,000gns)
Video Link
6f maiden winner at Newcastle on debut. Later unplaced in a Listed event then a nursery off OR81. Closed season on OR79 with his best TS at 69.
(Signed for by 'Anthony Stroud'.)
SENSE OF EMIRATES
(A Shaikh)
Tatts Guineas
(50,000gns)
Video Link
Beaten 20L+ in both outings in 7f maidens at Kempton. At a long SP each time.
(Signed for by 'Stephen Hillen'.)
MOSTASHREQAH
(H Ghedayer)
Goresbridge
(€26,000)
(No Video available)
Won a 7f WTON maiden on tapeta in early November. Unplaced in two polytrack nurseries off OR73 in December. Best TS of 55.
(Signed for by 'Anthony Stroud'.)
Tabel 2 : Simon Crisford - 2015 Turf Season 2yos bought at a Breeze Sale
&nbsp&nbsp&nbsp James Willoughby's partner in the assessment of Breeze Sale purchases is James Hathorn. Mr Hathorn confirmed early in the season the Simon Crisford was receiving the same service, i.e. the pre-sale assessment, as Mark Johnston. On checking with Mr Hathorn in January 2016 he said that 4 of the 5 horses in the Crisford table above had been on the shortlist provided by them to Mr Crisford. The sole exception was Senses Of Emirates that they had not recommended; this horse being the only one of the 5 to fail to win as a 2yo.
&nbsp&nbsp&nbsp Mr Hathorn said they had also recommended a filly by Kodiac ex Itsanothergirl to Crisford at the Doncaster Breeze Sale. The filly was Lot 117 at that sale and sold for £68,000 with the agents 'Blandford Bloodstock' signing the sales slip after the bidding was completed. This filly had not run by early March, 2016.
&nbsp&nbsp&nbsp The following Section 8. will outline briefly some parameters which might be used to assess how successful the initial Breeze Project purchases were for Mark Johnston. That Section will not cover the Crisford purchases for a number of reasons. Firstly, because there is less clarity over how much importance was placed on the Willoughby/Hathorn recommendations prior to the Breeze purchases. For example, when Simon Crisford was interviewed in early season at Southwell after First Selection had won a maiden he was adamant that Mr Mansoori had been the reason for the purchase of the horse at the Brightwells Ascot Breeze Sale. Crisford saying that Mansoori had "loved" the colt as an individual and that led to the purchase. From the outside it is impossible to assess how much, or not, of this is Crisford buttering up a wealthy Arab client, a skill and activity he has made a long and lucrative career from.
&nbsp&nbsp&nbsp Another issue is that Crisford was in his first year as a trainer so that there is no historical record to judge the Breeze buy record against. That lack of background encompassing both his ability to source competitive 2yos and his efficiency in preparing and placing those juveniles to win 'something'.
&nbsp&nbsp&nbsp If we leave out Senses Of Emirates from the Crisford list we have 5 x 'Project' 2yos to consider of which one did not run as a 2yo. The other 4 all won at some level with First Selection able to win a pace-biased Group 3 event without running to a true OR100+ final Timefigure. Will he confirm he really is Group material as a 3yo or look as if he has 'failed to train on'?
&nbsp&nbsp&nbsp The other 3 winners were all successful in lower quality Northern or All-Weather maidens and none proved they were OR75+ on ability shown in their races so far. Red Artist may be a real Turf Season OR70s type but the other two look more sub-70 and their wins a testament to Crisford's skill in placing them in winnable races rather than them being true 'Open Maiden' class. But, 4 winners from 5 known puchases is clearly a solid return although you could make a case that only First Selection has proved himself more valuable than his combined purchase price and subsequent training costs. A solid start from a small sample and see how the record develops with more data in 2016.

---
8. 2015 OUTCOMES OVERVIEW
&nbsp&nbsp&nbsp After some thought about how this Section might be 'used' it seemed sensible to keep it brief and nothing more than a few thoughts about how 'sucess' might be measured for the purchasing Project. People tend to want easy answers and quickly, and for them to be definitive. So far we have a total of 5 horses bought by Mark Johnston to assess and this is too small a sample size, by a huge margin, to be making any definite conclusions about. Add in factors such as horses on the purchasing 'Shortlist' which Johnston did not buy, for whatever reason, and we lack enough information to make any firm judgements.
&nbsp&nbsp&nbsp To make the point about sample size Willoughby talked about "millions of data points" in his original article and Hathorn talked about "thousands of sales" as providing the, ongoing, inputs to their data modelling. The Sloan Sports Analytics conference was being held when this Section was written and one of the major developments they were reporting on was how 'Big Data Sets' that needed to be analysed by 'Machine Learning' technologies were now at the forefront of developments. The days of individuals, or small teams, shed-crafting useful data analysis were numbered. A particular issue for how much of the British analysis of Racing is currently undertaken.
&nbsp&nbsp&nbsp Another interesting quote from that Conference was - "Stay away from Mountains of Data with Molehills of Insight". You can generalise that quote and you should stay away from a Molehill of Data if you have very limited insight. An issue which touches on the Visual versus Numeric Analysis interface. One one hand you have to take time to do numerical analysis to ensure you visual interpretation, and gut feelings, are correct. Conversely, a full-on maths/data person needs to ensure they do not get 'lost' in their data model and start seeing it as the 'Real World'. The Following external quote used in an earlier article on this website sums this up well :-
"By watching the games closely, you then can develop questions about a particular team or player's patterns that you otherwise might not have picked up on if you were only looking at the numbers. Using the stats, you can then more reliably answer those questions."
( From Speed Figures - Outside to Inside)
&nbsp&nbsp&nbsp Willoughby's uses of the phrase 'The Figures Never Lie', including the phrase as the title of his blogspace. In a world where anyone, from the biggest intellect onwards, needs to be humble about what they know, the phrase is pure hubris. But, a phrase like 'The Figures provide useful information if they are carefully designed, produced and analysed, but should still be treated with caution and crosschecked in a variety of ways, plus considering how the new knowledge data obtained has the capacity to change its own veracity when applied, etc. etc.' is not as snappy. Try embroidering that on your Banner. To use the old joke, too much of that viewpoint and Willoughby could be the Stats Guy to manages to Drown (while stood up) in 3 foot of water [on average].

---
8.1 Winners to Runners
&nbsp&nbsp&nbsp In the original article by Willoughby he used a metric of the ratio of [2yo] Maiden Winners to Runners for sale purchased horses. He splits the data in 4 Price Range 'buckets' and, for example, the £30,000 to £60,000 range produced around 36.6% Maiden Winners for All of the sales in his study. Mark Johnston achieved 43.9% and better than the average figure.
&nbsp&nbsp&nbsp But, in the mindset of 'The Figures Can Lie' we do need to think a bit about what that actually means. For example, is Johnston buying types that are targeted at early 2yo success? Is he better at forcing horses to win early and possibly limiting their full development? Is he only winning weak maidens in the North and/or All-Weather? The 'Maiden Winner' tag could mean a horse capable of rating anything from OR55 to OR100+, for example. This is thinking about what insight the numbers give us.
&nbsp&nbsp&nbsp It does give us a benchmark to use to match the performance with the Breezer bought 2yos against. 4 of 5 the Johnston Breeze buys won as 2yos, although one only won a Nursery. Therefore the Maiden win percentage is 60% and 80% of the purchases won something. At that simple level the Project has got off to a good start in getting competitive 2yos.
&nbsp&nbsp&nbsp For further reference Johnston's ratio of All juvenile runners to winners for the last 10 seasons is 41.8%. That figure includes all the owner bred horses as well as those Johnston has bought on his account. One question to consider is should the Breeze Buys be achieving a better Winner to Runners percentage than Johnstons typical 42-44% rate across all 2yos, to be considered a success? Making the point that the Breeze Project approach should be adding something extra to Johnston's base ability in buying competitive horses. Could he not just achieve similar results using his existing methods



---
8.2 Performance Ratings
&nbsp&nbsp&nbsp In the original article by Willoughby he used a metric of the ratio of Median Rating for sale purchased horses. For the £30,000 to £60,000 range the Median for All 2yos is 75 and the figure for Johnston 2yos in the same price range a touch higher at 76. The article did not identify which organisation's rating were used for the figures.
&nbsp&nbsp&nbsp The best ratings as 2yos recorded for the 5 x Johnston Breeze Buys were :-
Muhadathat = OR95 (BHA), RP95 (Racing Post) and TS87 (RP Timefigure)
Highly Sprung = OR82, RP82 and TS68
Ahdaf = OR81, RP82 and TS69
First Party = OR71, RP71 and TS47
Chicago School = OR75, RP74 and TS69
&nbsp&nbsp&nbsp The Median Rating of the group is 81 or 82 with Ahdaf the middle rated of the 5. Again, this is in advance of overall Median Rating for all sales bought Johnston 2yos. A commendable start with the usual caveat of this being too small a sample to be making definitive conclusions on.
&nbsp&nbsp&nbsp Another caveat is one that B2yoR has with all Ratings which depend upon Race Standardisation handicapping techniques. A large class of horses end up rated on a notional view of what a race is worth in terms of a typical historical standard and not on the actual performances they produced. Some of this over-rated group will actually be capable of running to their unproven rating level later on, but a large set will not. It is this consistent over-rating and overly-literal reading of race results, and related belief that many official figures are fantasies, that caused B2yoR to start investigating its own Rating techniques. It is also at the root of the wariness trainers have in allowing their horses to compete openly before they are placed on a usable OR rating.
&nbsp&nbsp&nbsp The Timefigures are included above because they are mostly, they also include some bunce for 'race quality' or the like, reflections of the actual performance the horse ran to. The ordinary Handicap rating will have to be placed on a typical higher level because it is a public figure that the horse will have to race off. The Timefigures do not have to fill this function so can say a slow race was worth a Zero Rating if that is all it was worth. Look at the Timefigures for the 5 horses above. How much confidence would you have that Ahdaf & Highly Sprung can perform to real OR80s level as 3yo given the best timefigures they own? Assuming they achieve average physicall development from 2yo to 3yo. Something to check at the end of the 3yo season, along with how this group of 5 have fared and whether they have added to their value as 3yos, or perhaps gone backwards while standing still, so to speak.



---
9. APOSTASY & Mini-TROLLERY
&nbsp&nbsp&nbsp A general section to look at a couple of developments since the start of the 'Breeze Project', one serious and one not. On re-reading all the Willoughby and Hathorn written input before the Project began they make the point several times that the 2 furlong Breeze Time has to be assessed in a wider context. Willoughby summing this up in the quote - "[We learnt]... how to judge Breeze Time in the context of all other variables about the horse.". While pointing out that other items (variables) need to be measured as well it still appears to give 'Breeze Time' a central role, with the other measured factors providing some support to this main consideration.
&nbsp&nbsp&nbsp On January 5th 2016, Jason Hathorn published the following blog - JH Article - which adds some extra background. In the blog Mr Hathorn bundles together Breeze Sale horses under the 'consignors' which appeared in the sales catalogue. The 'consignor' could be the current owner of the horse or an agent providing services to the owner. The implication being that we can take the 'consignor' to be equivalent to the person who has done the pre-training and preparation of the horse for the Breeze Sale. In many cases this will be correct and there are a number of companies which prepare 100+ horses for the raft of Breeze Sales in a year. But, even then, they are likely to be contracting out the preparation to a number of providers. In some cases a smaller operator may prepare a handful of horses they have bought at a previous sale and still own.
&nbsp&nbsp&nbsp The breakdown by 'consignor' is therefore artificial to various degrees and a simple and stong correlation between consignor and preparation methods may well not be the case in some areas. The Hathorn blog is well worth a read and within it he provides the scatterplot below. Each dot on the plot represents all of the Breeze horses listed as being sale entered by a particular consignor during 2013 to 2015. For a large sale consignor the dot could be for 300+ horses and just a handful for the smallest ones. The horizontal axis shows how the Median Time for all Breeze Times for a consignor relates to the Median Time for every consignor. Points to the left of the '0.0' marker are consignors who produce Breezers who, on average, are faster than the general standard. On the vertical axis the Median Rating (using Racing Post figures) for the best rating a Breeze sold horse achieved on the racecourse. So, the higher up the better.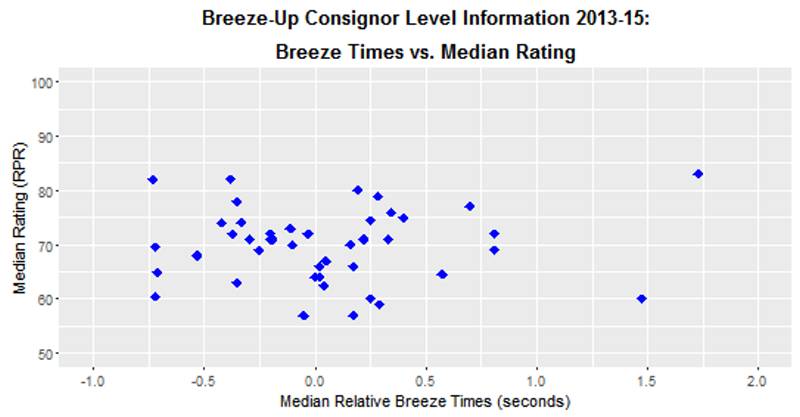 &nbsp&nbsp&nbsp With this sort of scatterplot if there were a strong correlation between Consignor Breeze Time average and the Performances Ratings the horse recorded during the racecourse career the dots would clump around an angled line on the graph. In this case, a straightish line going from low down on the far right side (i.e. slow breezer equals poor racehorse) of the graph to high up on the left side near the vertical axis (where fast breezers become higher rated runners). The distribution of dots is unlike that ideal. Mr Hathorn concludes as much and says in the blog - "There is little relationship. Those consignors that typically produces fast breezers do not guarantee high or low ratings for their lots.".
&nbsp&nbsp&nbsp The blog figures are aggregated by consignor so that it needs some careful thought before about whether generalising the outcome to say that Breeze Times have little relationship overall, is a valid conclusion. We really need to look at the same type of scatterplot but with each dot replaced by the actual Breeze Time for each individual horse versus the Best Rating it achieved. A plot with a few thousand dots on. When prompted via Twitter for whether the 'All Breezers' plot led to the same "little relationship" conclusion the response from Mr Hathorn was - "..a number of variables, including time, seem to be important.". The other variables seem a more interesting area to learn about, overall. Breeze Times starts to feel more like a final item to consider, the horse which 'Ticks all the (other) Boxes' proving it can shift itself acceptably, rather than being of central importance. A factor which could be ignored if there appeared to be a valid reason for an average, or slower Breeze Time recorded by a horse.

---
&nbsp&nbsp&nbsp And finally. The B2yoR view of Twitter output is that overall it is too upbeat and focuses only on success. This is probably an artefact of the way it is used, in that the majority of follows are of people professionally involved in racing who have something to 'sell'. Which means they ignore tweeting about anything even mildly negative, or even admit to anything being much less than ideal. The exasperation boiled over into a mild rant in this Result Summary from the 2015 season. Second paragraph down from the 'Post Race' title. Those Company brochures that are full of sunny, smiling, teeth gleaming, stereotype humans set in implausibly sunny, clean and desirable offices and countryside have the same effect on B2yoR.
&nbsp&nbsp&nbsp Which meant 'Trolling' had to be looked up and it took a bit of time to work out the tweets below were parody, for comic effect and some very mild Trolling. Produced by someone who claims to live in "Binocularsville, Paddockshire". Well, Really! B2yoR never uses binoculars.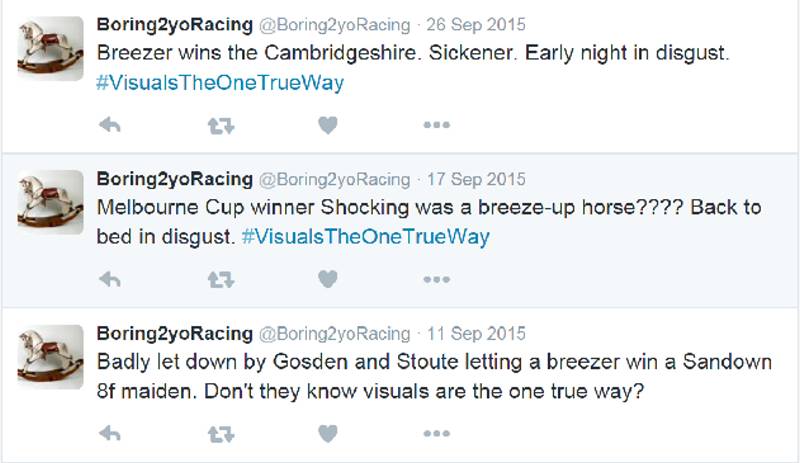 &nbsp&nbsp&nbsp Oxygen of Publicity and all that, but just some mild comebacks. Part of the reason for starting B2yoR was to try to make 2yo racing seem more accessible and appealing and the author is well aware that many people see it as Boring. But, a lot of that is lack of knowledge. In the greater scheme the average sports fan thinks Racing is 'boring' and a good number of racing fans think the National Hunt racing is "obstacle racing for old geldings", stuffed full of slow-motion, unappetising 'slog' finishes. Sport, and the Internet, are big places and you can choose which parts to frequent and leave the others in peace. On the day this was written the Sloan Sports Analytics conference reported that 402 Billion (yes, Billion) videos per month, relating to sport, are viewed on Youtube. It is probably the case that the Horse Racing total in that 402 Billion is a tiny fraction of 1%, unless there has been some spectacular accident which was viewed by the 'ghouls' as well as the Sport fans.
&nbsp&nbsp&nbsp On a slightly more serious note the B2yoR is not 'anti Breeze Sales', but against anyone offering the view that turning up with a stopwatch at the Sale and thinking they are going to 'crack' the sales using a single number (the 2f Breeze Time). As detailed above even the Analytic duo behind the Johnston Project would say that taking times is a small part of the puzzle. The fact that you can but stayers like Trip To Paris for peanuts at Breeze Sales is something to celebrate. It shows the amount of slack and inefficiency in the system that can be turned to advantage to those who marry Numeric and Visual input successfully.
&nbsp&nbsp&nbsp And really finally, Visuals are not the 'The One True Way' they are part of the data input anyone should use to improve their race analysis. How does a website that is stuffed with tables of numbers, some to 2 decimal places, count as a VisualFest? Someone has to push the use of Visual input because its is hugely underused and there are others who are making mild progress with Numeric Analysis like Sectional Times. The B2yoR website includes a very detailed article called 'Visuals AND Numbers' just to leave noone in any doubt.
&nbsp&nbsp&nbsp The more pertinent point, in the B2yoR view, is just how small the Market is for detailed analysis and tools and the people willing to do it a very small number. All analytic sides withing racing - Visual, Numeric, or whatever - need to be working together to check each other's work (like this article) and to provide Tools and basic knowledge to increase the base level of understanding of the 'average' racegoer. Say, something like the Project talked about the 'Pointless Punditry' article. We could get together and try to 'Crowd Fund' such an undertaking perhaps? (and probably prove to ourselves how 'few' people were truly interested).

---
10. THE DONCASTER DIVE
&nbsp&nbsp&nbsp The above two Videos show Breezes from the 2015 Goffs/DBS Breeze Sale with the 2 furlong 'breezes' being done on the home straight at Doncaster Racecourse. A bright and sunny day for most of the breezes and the majority done along the far raIl. Try watching the two example videos and take particular note of what the horses do at the 2 Furlong Pole at the start of the official, and timed part, of the breeze. Unfortunately the only 2f marker post is on the Stands' Side Rail so gets lost on some parts of the Video.
&nbsp&nbsp&nbsp Note that on the Stands' Rail, where the 2f Post is, there is a man with a white flag raised which he drops as the horse passes the 2f point. This allows some Old School timing to be done remotely, presumably, and also alerts people in the stands to stop talking and watch the horse. Alongside this Flagman you can also see 3 x knee-height tripods which are probably holding mirrors which face across the track. At the 2f point on the Far Rail there are 3 more tripods which are, at an estimate, holding laser light sources which point across the track to the mirrors and then reflect the light stream back to a detector next to the laser source. When the horse breaks the beam this presumably starts the digital timing for the breeze.
&nbsp&nbsp&nbsp Watching the two videos what did you notice the horse do at the 2f start and adjacent to where the 3 tripods are? To this viewer they jink to their right as if something to their left has caught their eye. They then settle and get into a better, forward moving, stride once past the tripods. It is subtle in some cases but something apporaching a majority of breezers, that ran down the far rail, spooked away from the rail when they reached tripods. Without knowing what the tripods are holding it is hard to be specific but something needs to be changed before the 2016 breeze sales. The timing equipment appears to be slowing a large number of horses down, the observation of the breeze is changing the final outcome. How about fitting an opaque cover over the light source so that it is not visible to the horse but allows a very narrow window for the light to travel out to the mirror on the far side of the course.

---
11. PICTURES & RACE WIN VIDEOS
&nbsp&nbsp&nbsp [TBC]
---

© British 2yo Racing. All rights reserved.