SUMMARY
GF in early am as on Decs. 3mm Watering Friday Evening after racing. GStick GStick 8.0 Stands, 8.2 Centre/Far Side.

Stalls Stands Side.

Medium to Stiff Westerly Wind = 3/4 Tailwind and back to a Tailwind, like Thursday, after a Switch to a part Headwind on Friday.

=== Pre Race ===

Birchwood the winner of Magic Race 72 which has produced a variety of high class winners, including Beaverbrook (4th in the Cov and shorter price in am). Birchwood purchased by Godolphin after that run and has since run in Ireland. Finished 3rd of 4 at NAAS on Junr 6th in a 6f Listed race as the 5/6f. Only 4 runners with Air Vice Marshal an NR there. The NAAS 6f race on G-Yielding going and final time a very slow 77.55s. Very windy day and presume part headwind. Birchwood race a bit free in the leading pair and responding when winner Argentero headed him into the last 1f and probably got back to the lead. But, fading back in the last 1f like he didn't stay in the tough conditions. A real niggle that he looked a medium (at most?) neat one relative to Argentero and size vulnerable at better level (check how he won 72 against bigger types = more ready on-the-day?). Argentero a well beaten last of 4 NTO in Ireland in the 6f Group 2 Railway stakes (behind 3rd placed Log Out Island, another Godolphin post win purchase.

Checked back on Birchwood's NWBY win & it seems fine and some greenery and perhaps going too free around him. Settled midfield 3R, had to wait to get a run then found the forward effort in the last 1f to go by the others. Comparing that with his poor run in Ireland 3TO you would say he is going to look a bit smaller type against the average in this field. But, he has a turn of foot and will run best if dropped in 2R as others work harder in the lead and they use his effort in the last 1f.

Air Vice Marshal made debut in a 6f CURR maiden on June 7th as 13/8f. Big field and AVM drawn widest away from rail. Slower pace and winner controlled race on rail & the 2nd/4th also from close to rail runs. AVM niggled a bit mid race then an ok effort at 2f out and staying on without showing anything different. Running against a bias perhaps deadening any effect. Winner - Rockaway Valley went clear down the rail and beaten NTO in the Railway Stakes as favourite. Behind Painted Cliffs with Argentero behind.

AVM 1/4f for a 7f maiden STO at GWRN. Able to sit 2nd 1 off the rail around the very long LH bend at the course. Always travelling best and pulling clear in the last 1f without being asked for an effort. Tallest in the field and an ok build (bit light?) & neck a touch gawky. Still a bit green when in the lead.

=== Post Race ===

Race 72 keeps on turning out winners. 2 of the Group winners at this meeting from that race to add to its already strong profile. Fahey saying Post Race he didn't know what happened to Birchwood in Ireland and though his attitude might not be right. The way Birchwood rattled along here on fast ground to break the 2yo Course Record there seems a very simple answer to what happened in Ireland. Birchwood looked completely willing there including drifting across the track to engage Argentero when headed. But that was on slow going into a headwind and he raced too freely. Here Birchwood broke well enough to lead but able to get some cover with They Seek Him Here going forward. But Birchwood going enthusiastically and pulled to the lead and a good effort at 2f out before drifting left. Jk Doyle afterwards saying that he (i.e. the jk) had got a bit excited at 2f out and kick him on for his final effort too early. Unlike Ireland here Birchwood was on fast ground with a Tailwind and able to finish the race off.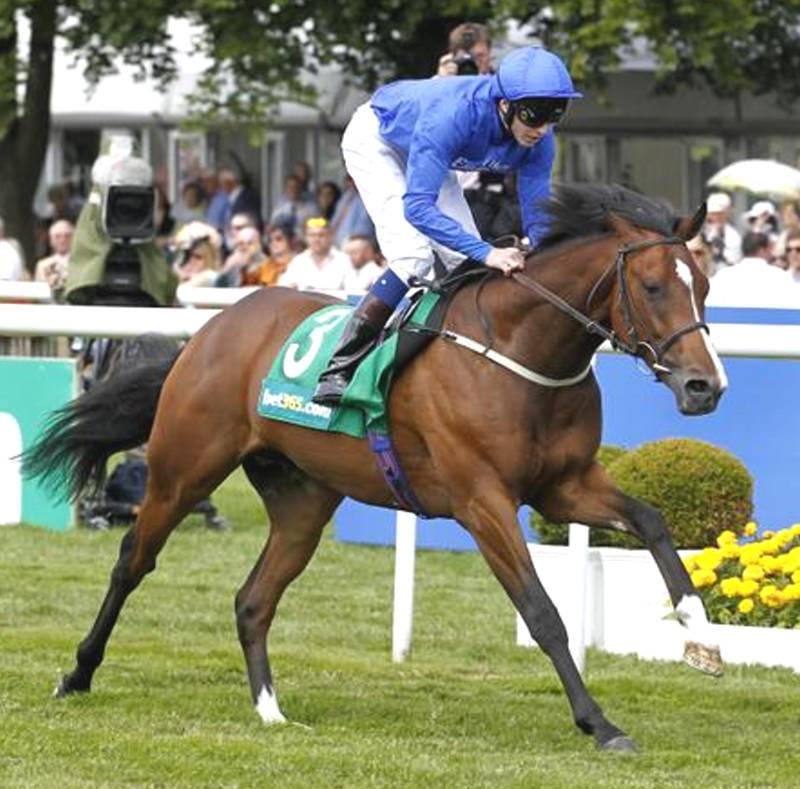 Sectional Times of the Leader at each 1f end :-
1st 1f = 14.01secs
2nd 1f = 11.32s
3rd 1f = 10.81s
4th 1f = 11.04s
5th 1f = 11.12s
6th 1f = 11.71s
7th 1f = 13.29s

[July 28th] Stiff Pace with a Relay of leaders as field raced centre track. Birchwood a bit free and lead early, They Seek Him Here then pulling to the lead and Beaverbrook taking the lead in the 3rd 1f. 3rd & 4th 1f looking fast 1f sectionals and race starting early to put extra pace pressure onto the leaders. Course Record time but Sectionals seem to suggest a sub-optimal pace with fast furlongs before and around halfway and the last 3fs getting slower and the final 1f notably slow for fast conditions. The 7f maiden the previous day had run 12.59s for the last 1f (some relaying) with a Headwind.

Beaverbrook strong and deep medium+ but perhaps lacks frame to grow and develop. Ran too free here and responsible for the fast 3rd 1f. Tiring notably in the last 1f to drop from 3rd to 5th. Can rate higher more settled and/or an easier 7f. Birchwood Perhaps less size than Beaverbrook although still strongly made. Birchwood's movement seems to be unusually good to raise him above the level his power would put him. Flattener and using his range fully and also very together and rhythmical. Could use the early part of this video to demonstrate 'good nodding'. Birchwood running too free but finding a kick off that and could have rated higher if he settled and raced more professionally and also wihout the hanging left. Birchwood looking the sort where his lack of size (relatively) will leave him short at the Top Level (but that may mean 3yo season somewhere).