SUMMARY
GSS in early am from SGS at Decs. Rain forecast for most of the Day.



Stalls Centre.

=== Post Race ===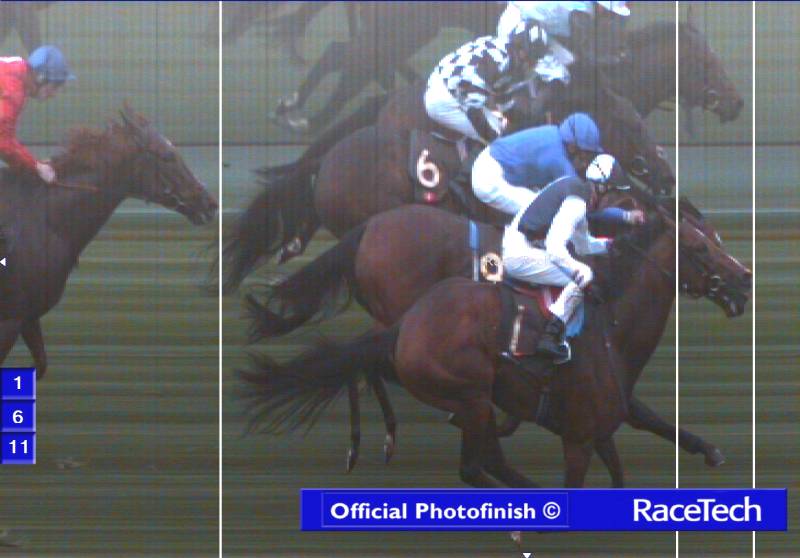 Photo Finish Above with Crazy Horse closest finishing in centre track to win the 4-horse photo on the line. Other 3 in order away from him are Start Time (led inside last 2f, ran around last 1f), Perkunas & Return Of The Mak. In 5th is the folding late on (again) Zonderland (veered left in last 1f carrying Perkunas & ROTMak to the far side).

Often a 'forgotten' Group race, very late in the season and often run on soft ground. Often a sub-Group level field and the last 3 editions have produced a grand total of one winner at Listed level at 3yo+. This field looking typical with low 90s types, say, the best on offer depending what the STO debut maiden winners prove to be qualitywise.

Field running centre track and going looking very sloppy and plenty of rolling around, especially in the later stages. Opera Baron in form and a solid 70s handicapper. OB allowed a soft lead and setting a solid target for the others. Looked for a long time like only the prominently ridden Start Time would get past OB off a usable pace. Ground proving testing enough for late fades and a bunch finish with the staying on types getting to the prominent racers late on. Looking no better in immediate quality than pre-race take with one exception.

C4 showed the later stages of the LTO runs by Crazy Horse & Zonderland before the race and they both ran similar last 100yds in this race to LTO. For different reasons both CH & Zonderland at the rear through the race behind what might be a usable pace. Jk on Zonderland choosing to hold him a long way back and Crazy Horse looking uncomfortable on the loose ground.

Zonderland make ok progress to inside 2f out but set a stiff task to make the ground back. Hung left into the last 0.5f then fading back late on as he had LTO (also squeezed back because the gap going faster than he was). Crazy Horse staying on stoutly FTO to win a 3-way photo on the line in his maiden effort. After looking unbalanced in rear he seemed to finally start moving properly in the last 1.5f and a similar strong finish to steal a win-on-the-line in a 4-way photo this time. CHorse the odd who would seem to perhaps have more scope to go above a basic level 2yo Listed race like this, perhaps. His half brother - Richard Pankhurst - won the Listed Chesham Stakes at Royal Acot as a 2yo in 2014 and has run only once since when successful in a 3yo Listed event in September.